This post is also available in: French
Following the government's recommendations regarding the pandemic, the CMHA-Montreal Branch team has adopted an indefinite telework arrangement. Our offices will be closed until further notice and our programs have been revised to meet remote needs. Please note that you can reach us by email and that if you need help, we invite you to contact the following mental health resources: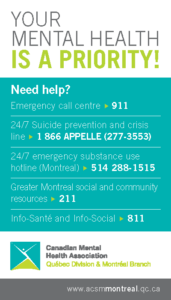 Your mental well-being in the COVID-19 outbreak
Lack of information and uncertainty can increase anxiety. Get information from reliable sources such as:
Public health department
The Government of Canada
World Health Organization
For multilingual computer graphics: https://accesss.net/fr/informations- multilingual-on-the-coronavirus-covid-19/
Maintaining a healthy lifestyle (sleep, diet, exercise) is essential to help you stay calm and manage your mental health. Try to limit your media consumption and check in with your loved ones regularly.
Social connection is an important protective factor for good mental health. Since we need to avoid crowded places and maintain social distance, remember that we don't have to be close to feel close. It is always possible, through various means, to get the emotional support you need.
Don't hesitate to ask for help. People who suffer from anxiety or depression that is unrelated to their current situation may experience additional or worsening symptoms at this time. Seek help if you are experiencing significant distress.
Take care of yourself,
– The CMHA Montreal Branch Team